Top Leading Tent Shades manufacturer in UAE
As a top leading shades manufacturer in UAE, we have the ability to provide every kind of shading solution to our clients. No matter how big or small a shading project requirement you have we will come up with the most efficient and cost-effective solutions.
High-Quality Car Parking Shades & Tent Shades Products are Akaa Shades' specialty. We wish to provide the market with high-quality goods and services as well as a technical workforce that is both highly trained and skilled. Employees of Akaa Tent Shades have years of experience designing, building, and installing High-Quality Car Parking Shades and tent shade structures in the UAE and abroad.
To ensure the effective execution of massive, high-quality tensile shade constructions, Akaa Car Parking & Tent Shades has reached an agreement with major worldwide corporations.
Exceptional Car Parking Shades Product
A complete facility for designing, creating, and installing tensile membrane constructions are available at Akaa Tent & Shades in, United Arab Emirates.
A talented group of welders, fabricators, weavers, and erectors of High-Quality Tensile Structures helped out.
We have experience working with a variety of steel materials, including aluminum and stainless steel, as well as textiles like tarpaulins, PTFE, PVC, PVDF, HDPE, knitted materials, acrylic, polyethylene, and canvas.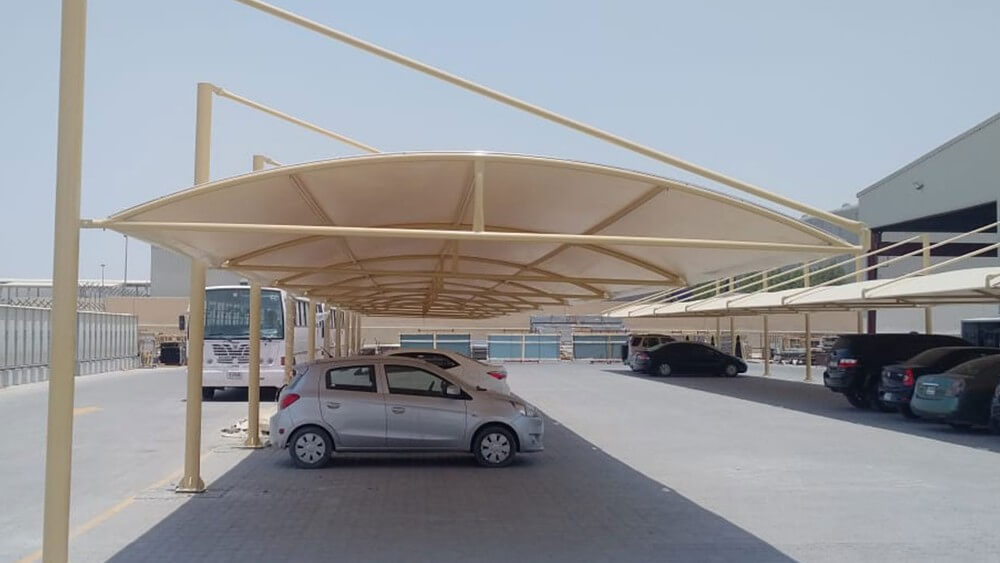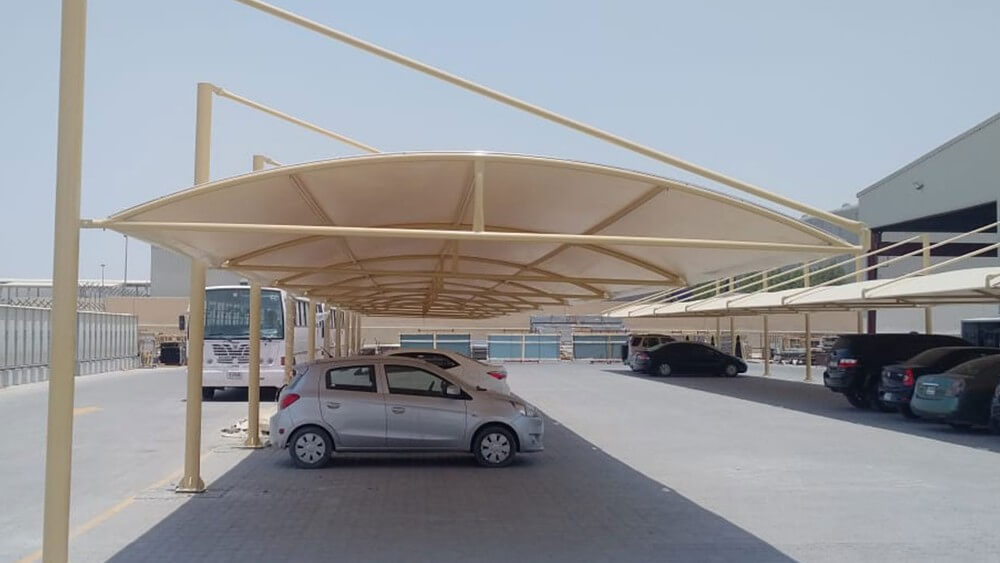 Akaa Car Parking & Tent Shades offers useful and clever solutions for terraces and eateries, assisting in extending the high season in spite of changing weather conditions. Throughout the region, marquee design aficionados and experts in hospitality enhancement work on projects ranging from designing a restaurant to creating a unique mobile environment. Using its distinctive selection of pagodas, movable halls, and outdoor furniture, Akaa Tent & Shades can make ideas come to life. Additionally, our full selection of tents, canopies, parking shadows, and umbrellas may be perfectly customized to fit any space, need, and spending limit. Our goods and services are designed to maximize available space while providing convenience and enjoyment.
Our goal is to meet customer demands by offering superior shades and tents that meet high standards. Our aspiration is to become a worldwide leader in the production of shades and tents, with a strong emphasis on quality, collaboration, and customer service.